Yes, this blog is not afraid to ask the really tough questions.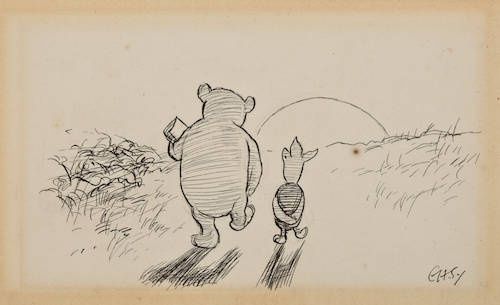 Lot No: 92

Ernest Howard Shepard

(British, 1879-1976) "Pooh and Piglet walked home thoughtfully together in the golden evening, and for a long time they were silent," illustration for A. A. Milne's Winnie-the-Pooh (London: Methuen; New York: E. P. Dutton, 1926).
Signed "EHS."




Pen and ink on board.


8 x 13.5cm (3 1/8 x 5 5/16in). Matted and framed.
Estimate: US$100,000 - 200,000
Sold

for US$194,000 inclusive of Buyer's Premium


Footnote:

Provenance: Sporting Gallery, 1928 .
For most of us, that kind of money should go toward buying a home, not a drawing. Some fortunate collectors and dealers do have that sort of a budget for art, and there was evidently even some competition among them to acquire one of the more important lots from Bonhams's June 22 sale.
So when is an illustration worth $200,000 at auction? First of all, from a purely technical point of view, with the low estimate at $100,000 in this case, there have to be at least two potential buyers who want the item badly enough to bid it up to this range. For any piece of mere illustration art to command this kind of attention at auction, it has to be something truly special. Indeed, the image should be iconic, ideally by a well-known artist depicting beloved characters, particularly in a fondly-remembered moment.
Here we have
E. H. Shepard's
classic rendition of two of A. A. Milne's characters from the last pages of the 1926 book
Winnie-the-Pooh
. Usually a collector would want the figures to be shown more or less from the front in a classic pose or attitude, but in this case the charming image as they amble away towards the setting sun works extremely well and is totally endearing.
Note how Pooh Bear's head tilts down toward Piglet and how Piglet's snout is pointed upwards toward the bear, connecting them even in their silence. Multiple diagonals--the book, Pooh's right shoulder and right foot, the shadows--lead the eye from him back towards Piglet. E. H. Shepard's charming drawing is all the more remarkable because it seems so effortless.
The original auction listing can be found here:
http://www.bonhams.com/eur/auction/19514/lot/92/