Bonhams's recent June 22 sale of modern illustration art included four works by
Ronald Searle
that reveal something of the incredible range of his work. Here we have the wickedly creepy, the absurdly political, the serenely cultured, and the preposterously grotesque all emanating from the tireless pen of one very fine draftsman. The estimates seemed on the high side to me and, indeed, only one, "The Milkmaid," a drawing which goes against every expectation of its title, sold. It's no secret that Searle is a long-time favorite of mine, and I'm sure I'll have a lot more to say about this artist in the near future, but for now I have a few comments on the four very different illustrations in this sale: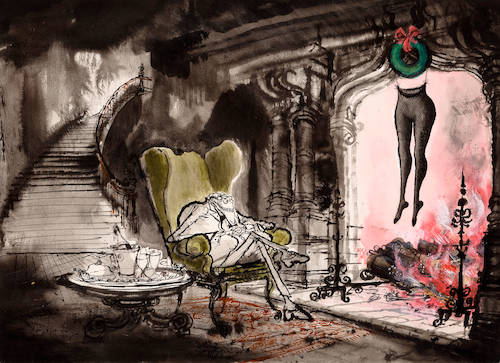 Lot No: 220

Ronald Searle

(British, born 1920)

"The Pair," rejected Christmas advertisement for panty hose, n.d.

Signed.

Watercolor and ink.

35 x 48.5cm (13 3/4 x 19 1/8in). Estimate: US$6,000 - 7,000.

Unsold
So we learn here that the pantyhose company rejected this proposed Christmas ad? What a shock indeed! I suspect Searle was having a lot of fun here and may even have expected this pitch to be rejected in what I assume was the more conservative U.S. market. My guess about this humorous, macabre painting is that the improbably suspended female hosiery did not instill the ad's client, unlike the expectant admirer, with sufficient Christmas cheer.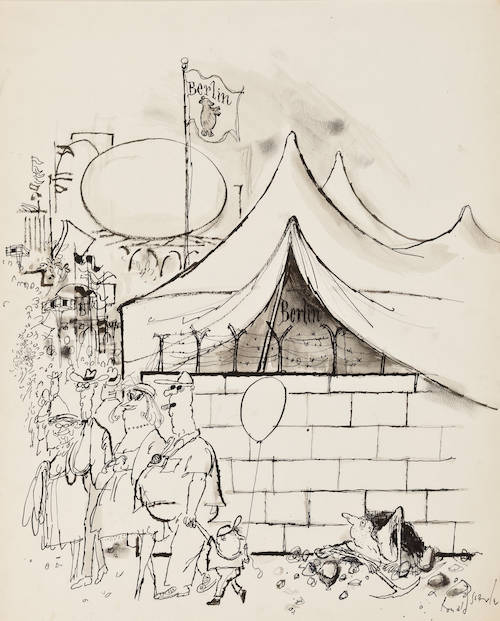 Lot No: 221

Ronald Searle

(British, born 1920)

"Berlin Wall," illustration for "The Rise of New Nationalism in Germany," Look, December 14, 1965.

Signed lower right.

Ink.

42.7 x 35.2cm (16 13/16 x 13 7/8in). Matted and framed. Estimate: US $3,500 - 4,500.

Unsold.
Searle, Ronald. From Frozen North to Filthy Lucre. New York: Viking Press, 1964, Page 59
Note that Searle has labelled Berlin twice, to make certain we can "read" the gag and perhaps also to show the two faces of Berlin, that of Communist propaganda and that of harsh reality. This was published roughly just after the closing of the New York World's Fair in October of 1965, so the idea of the American international fairground was still quite relevant. The Berlin Wall had been erected in 1961.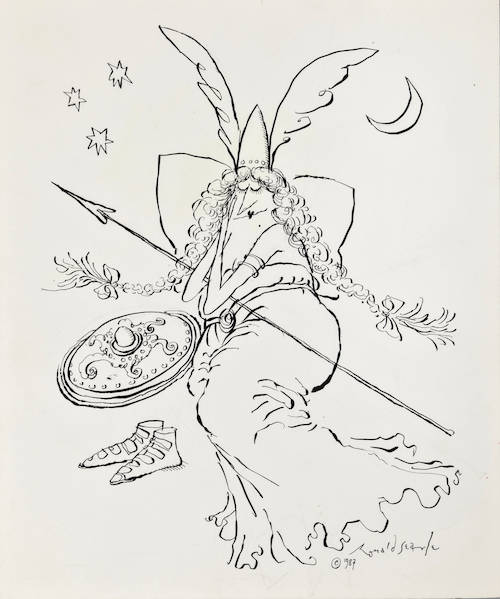 Lot No: 222

Ronald Searle

(British, born 1920)

"Metropolitan Opera," illustration artwork promoting the New York City opera house, possibly produced for advertising purposes.

Signed lower right. Dated 1987.

Ink with abandoned sketch in pencil on verso.

34 x 28.2cm (13 3/8 x 11 1/8in). Estimate: US $3,000 - 4,000.

Unsold
I don't think this sleeping Valkyrie was created for "advertising purposes" per se, although it would have been a fantastic ad, but more likely for some licensed promotional item in the gift shop. It would have made quite a blanket! The Metropolitan Opera had a series of T-shirts, bath towels, shower curtains, a mouse pad (actually a Die Fledermaus pad), and postcards designed by Searle. These commercial items constitute some of the rare instances of Searle having to use the copyright symbol, something I have always found detestable in an original work of illustration art.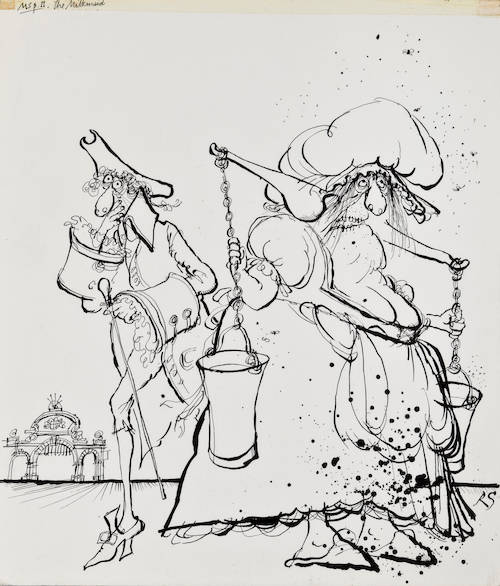 Lot No: 223

(n/a)
Ronald Searle

(British, born 1920)

"The Milkmaid," 1987.

Initialed "RS" lower right, titled "The Milkmaid" upper left.

Pen and ink.

28.6 x 24.6cm (11 1/4 x 9 11/16in). Estimate: US $1,500 - 2,000.

Sold

for US $1,464 inclusive of Buyer's Premium.
I may never be able to leer at a milkmaid again!
July 14, 2014 Update:
We now can see and compare two versions of "The Pair," one accepted by the client and one rejected, and they have been sold together at Swann Galleries. My earlier supposition that a woman was inhabiting the pantyhose in the second illustration now can be seen to be completely incorrect. The auction listing provides a bit of an explanation as to the rejection of the darker piece: "The black pantyhose were deemed too misshapen and vulgar; and only the red version was published." Very well. Which version do you prefer?
Ronald Searle,
"The Pair"
Ronald Searle,
"The Pair"
February 8, 2016 Update:
Searle's drawing for the Metropolitan Opera resu
rfaced at Swann Galleries last month with a more reasonable estimate. It's possible that Swann's title "Sleeping Valkyrie" is derived from the text of this blog post. For the record, the sleeping Valkyrie's name is Brünnhilde.
Hammer Price $1,300
Swann Galleries catalogue
Illustration Art, January 28, 2016
Image added February 21, 2016
Swann Galleries catalogue
Illustration Art, January 28, 2016
Image added February 21, 2016
Note:
Don't miss the extraordinary
Ronald Searle Tribute blog
written by Matt Jones which has many, many more examples of this artist's work.